What Is a Travel Journal and How Do I Use It?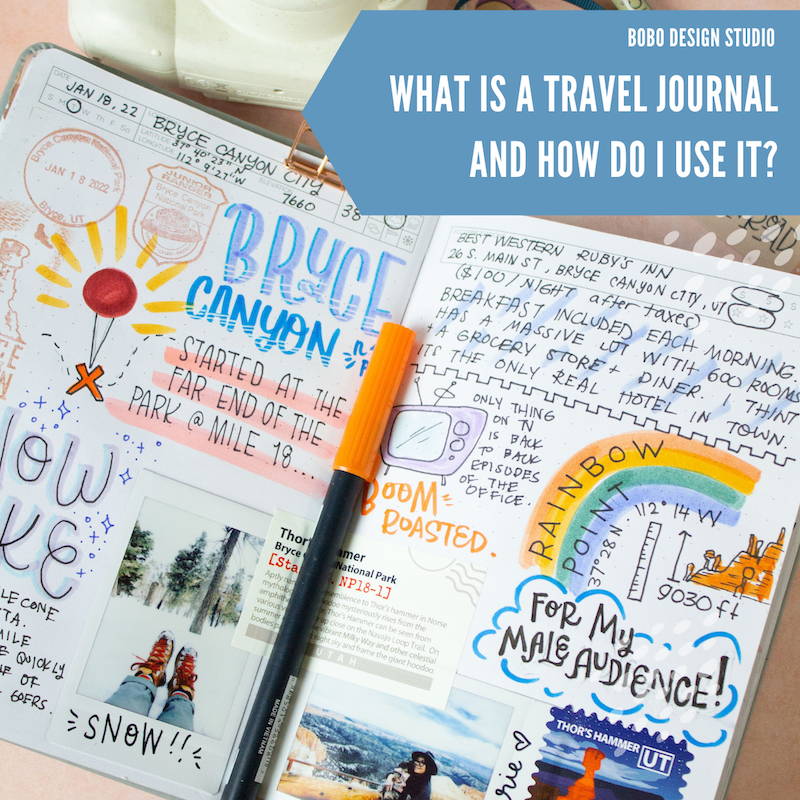 Seeing new places is great. But remembering every worthwhile experience in vivid detail is even better. Imagine going on an incredible adventure, only to have faint memories of your time in the blink of an eye. A travel journal is your best friend on the go, and a creative outlet you can turn to at any time! Start recording your trips so that you can remember them decades from today. Avid travelers even use it as a handy reference for giving recommendations to loved ones asking about a particular place they've been to!
What Is a Travel Journal?

Unlike a regular journal, a travel journal has more than just lines for you to fill every day. The layout and design encourage you toprint out and tape pictures, jot down notes, and keep souvenirs like ticket stubs and stickers when you travel. Additionally, you can add unique creative flair by writing and drawing as you see fit!
Catalog your prized moments, regardless of what you think your level of artistic ability is. Some get discouraged because they don't feel artsy enough to make their travel journal pretty. Don't be one of those. It's not about how it looks, but rather, what's inside! Use your travel journal to collect your most cherished memories.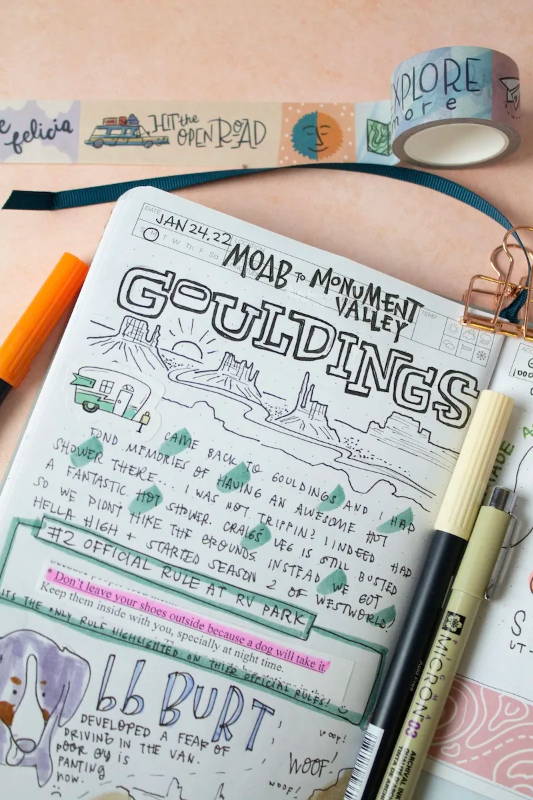 How to Use the Wanderlust Passport Travel Journal System

There are no hard rules on how to document your adventures in theWanderlust Passport. But I've removed the guesswork of what to include in your travel journal, so you can focus on the important bits! No matter the kind of writing style you have or what kind of traveler you are, the Wanderlust Passport will surely be an excellent travel companion.
On your next adventure, you can use the included structure to record important details like the date, location, temperature, place you stayed, and more. Below the structure box and on the next page over, there is plenty of space for you to exercise creative freedom. Feel free to write, doodle, tape photos, and store ticket stubs and receipts! The possibilities are endless.
Chronicle what you ordered at your favorite restaurant, any 'firsts' you experienced, a landmark that 'wowed' you, where you stayed and whether you would do it again, what you paid for a specific activity, and more!
Need more room to write about your trip in full detail? Don't be afraid to turn the page and continue. You can cover the structure box with fun washi tapes, stickers, or pictures from your trip to keep it seamless.
Pro Tip: Store notes on your phone and fill out your Wanderlust Passport when you get back home to relive your adventures. Life is fleeting. So, live in the moment and take your time to properly capture your vacation afterward. Make the spread something you will love looking back on!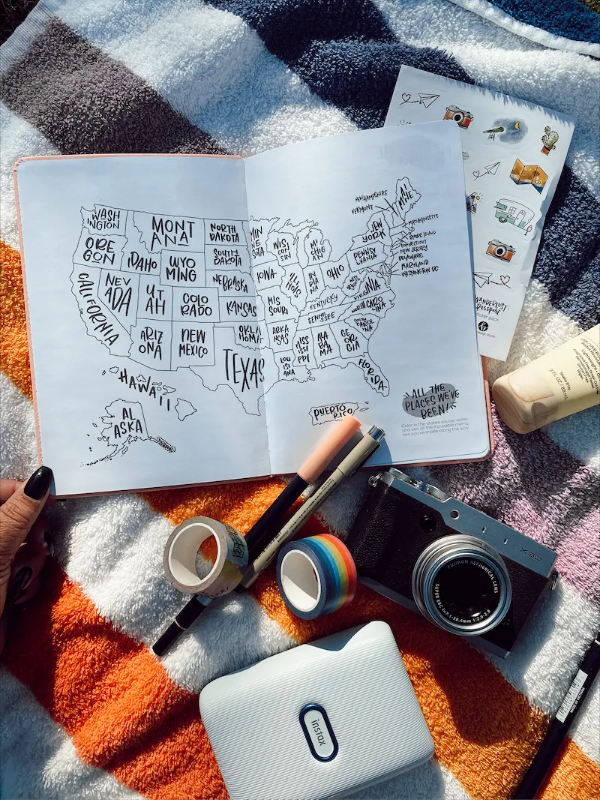 When to Journal Your Experiences

It is never too late or early to start journaling about your excursions. So why not start today? Even if you are not traveling at the moment, you can record old and recent trips. If you are planning an adventure soon, you can use the Wanderlust Passport travel journal to jot down destinations you don't want to miss, restaurants you want to try, and local activities other people have recommended to you. Spontaneity makes traveling a zestful experience. But if you are on a time crunch, having an itinerary outline can help you enjoy a more productive trip!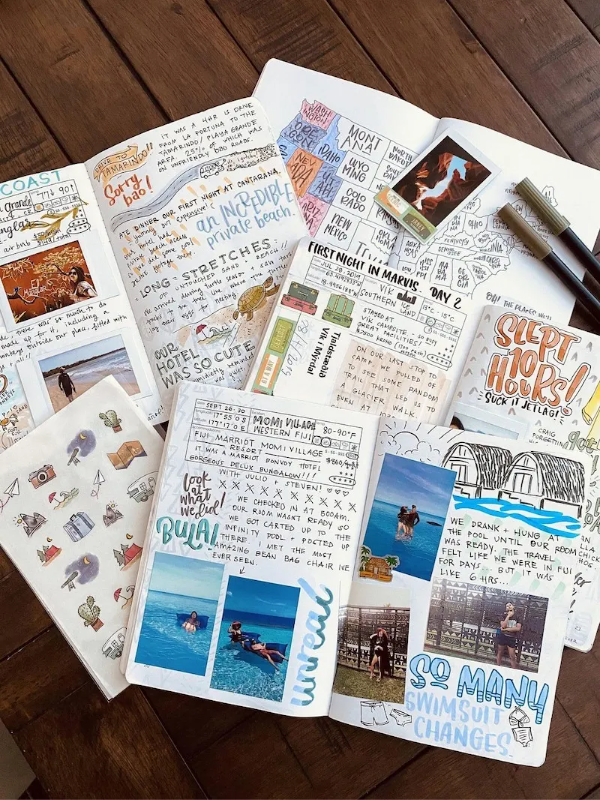 Benefits of Travel Journaling

Why should you start travel journaling today? Not only is it a fun and effective stress reliever, but it is also a good way to slow down, be more present with your vacations, and reminisce the highlights. Note down your favorite memories so that you can look back on them at any time! You spend a lot of money traveling – why not remember as much as you can as the years pass you by?
These days, people get caught up in sharing their travels on social media. But the reality is: Life isn't meant to be lived on social media. It's time to preserve lasting memories in an analog way, and own your moments! Don't leave out the details that don't make the highlight reel. Without the pressures of getting likes, you can document the obstacles you went through with no judgment! Struggles are part of life, and experiencing them on our travels makes us grow stronger.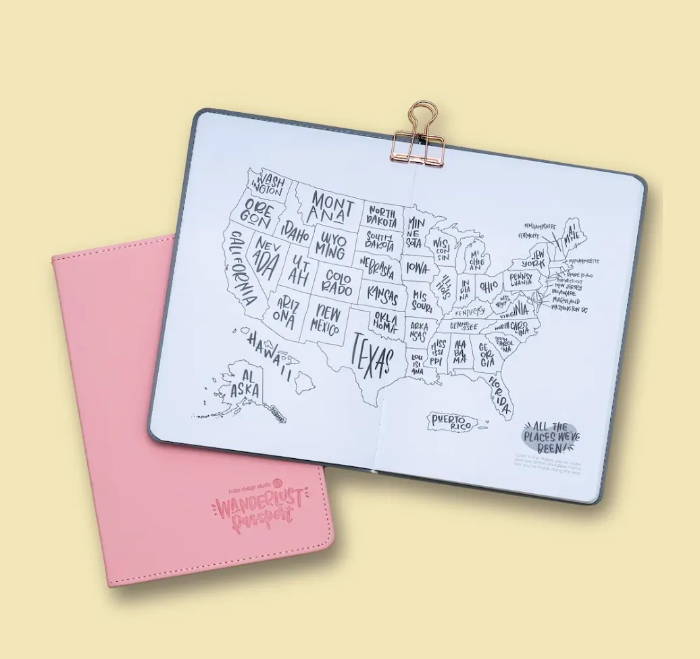 Document Your Travels with the Wanderlust Passport

Let your inner creative and adventurous soul connect and create some magic. Whip out your favorite pens, markers, stickers, washi tape, and any other stationery goods you fancy!Relive your favorite travel moments and carry them with you for a lifetime. With the Wanderlust Passport, you'll never fret about funny and crazy moments slipping you by years later.
---
---
Don't miss a future blog post and sign up for my newsletter.
---
Hugs and High Fives!