Which Portable Printer to use in your Travel Journal
Fuji Instax vs. HP Sprocket vs Polaroid Zip

One of the most frequent questions I get after I share pages of my Wanderlust Passport travel journal is, "what printer do you use for your photos?" I'm here to compare the top three on the market today; Fuji Instax vs. HP Sprocket vs. Polaroid Zip portable printer.
A portable printer is great if you want to start a travel journal or your
Wanderlust Passport.
Not only is it convenient to print your photos from your camera roll into your book, but it almost forces you to pick your best photos from the hundreds you take. It's a mini-lesson in pairing back, appreciating that less is more, and being present.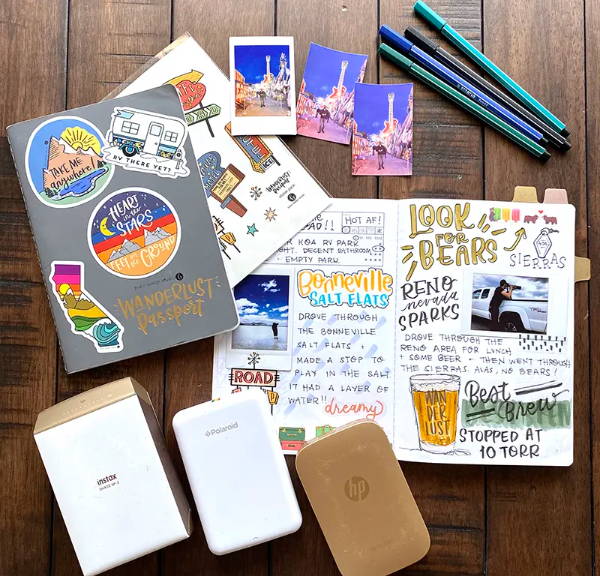 Before we can slap a blue ribbon on a front runner, we should outline some parameters for judging them. I often take my passport and printer on the road when I travel, so I need the printer to be easy to use and have the film readily available. Since I primarily use portable photo printers to create photos for my Wanderlust Passport, I want to make sure that the print quality looks good. I have to consider how I apply them to my travel journal, and what the desired look and feel I am going for is. For those who aren't much of the reading type, I also have a video of my review below! With that said, let's dive in!
The Differences Between The Printers.

For continuity, I printed the same photo across each portable photo printer so we could compare the differences in print quality.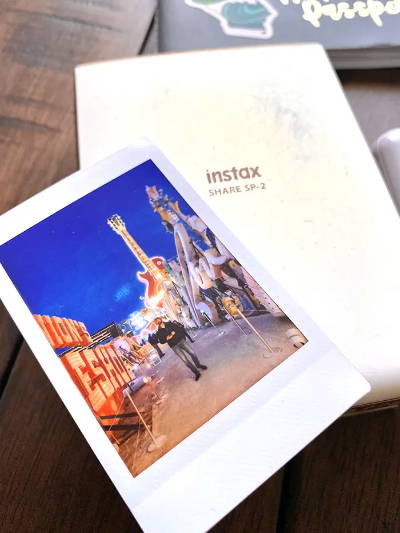 ---
The only travel journal designed for documenting travel and new experiences.
---
Fuji Film Instax
Everyone loves an Instax photo. I'm sure you've seen the little Instax cameras with their cute pastel colors and notoriously terrible print quality. Yes, I said it. Turns out, to get a good photo on an Instax camera, you need to be about 2 inches away from your subject. However, don't let that fool you. The Instax printer is a whole other can of creamed corn.

Pros of the Fuju Film Instax Printer
The print quality is fantastic. You get that perfect vintage look without compromising the color quality of the image. That means you can print a photo of you at the rim of the Grand Canyon, or backpacking down in the black sand shores of Iceland. Your photos will look just as good as they did in your camera roll. In addition to that, the printer itself is a little beast. It can print out ten photos in no time at all. In fact, it takes the app longer to process the print, then for the printer to physically push out the exposed film. But the best part? You can find the film just about anywhere. So if you are traveling and on the road and need a refill, you can hop into Target or drug store and find it.
Cons of the Fuju Film Instax Printer
The photo prints themselves are bulky. They have a large footprint if you consider the white border. That means it can take up a lot of real estate on your travel journal pages. You also need to carry tape or glue with you when you travel, because you'll need to find a way to adhere the photos to your travel journal pages. And probably the worst part is all the excess packaging. Because the film needs protection from light (or else the film will expose), it requires a bit more plastic packaging for each set of 10 exposures.
---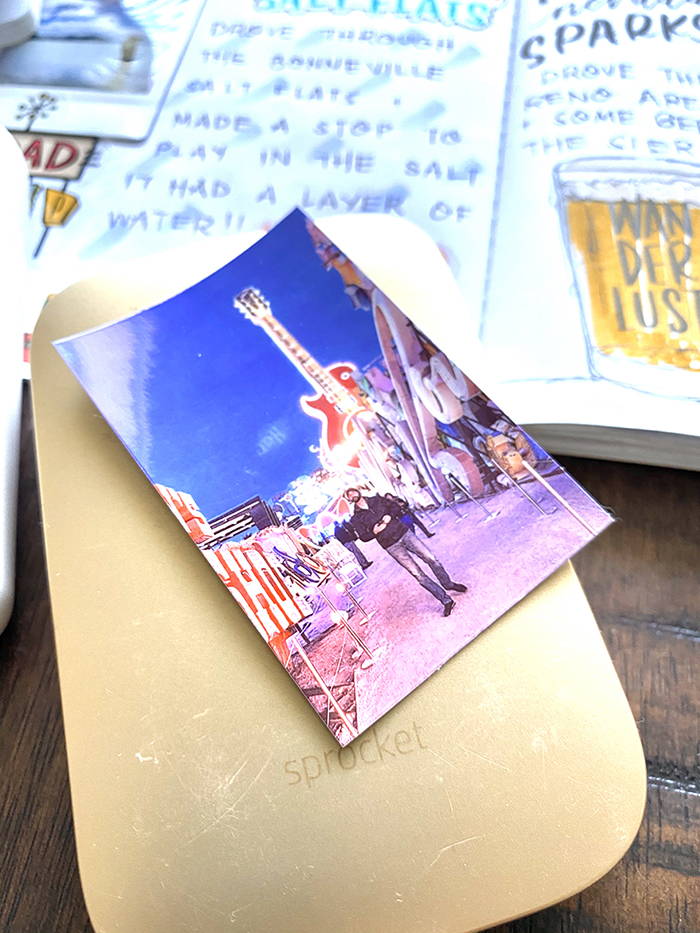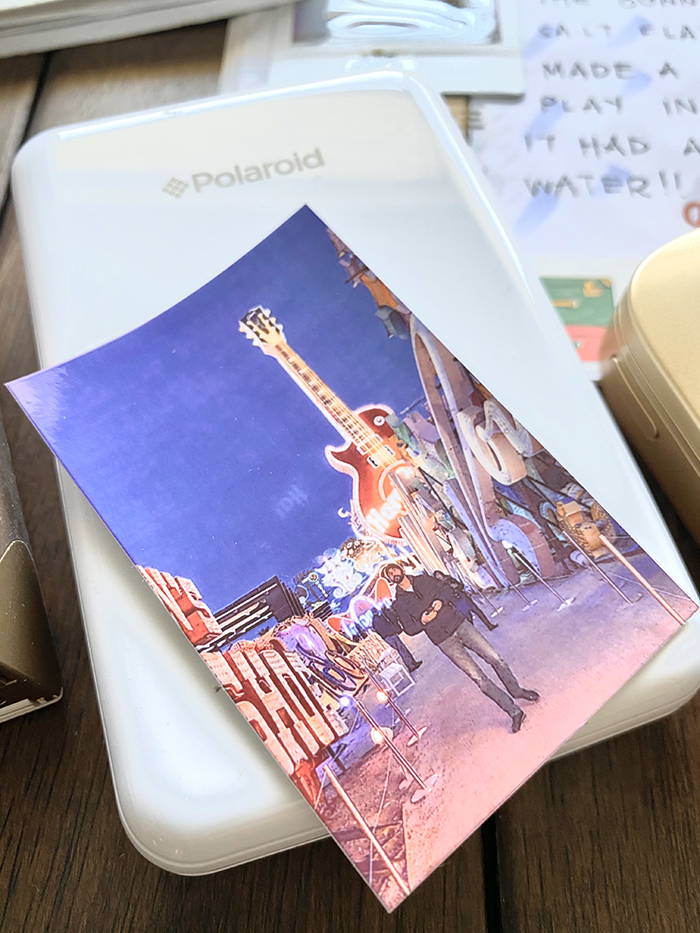 HP Sprocket and Polaroid Zip
The HP Sprocket and the Polaroid Zip are pretty comparable printers, so I'm sort of lumping them together. Both use this self-adhesive, sticker backed paper called Zink paper. That means you can print a photo, peel off the back, and voila! Slap that into your travel journal.

Pros of the HP Sprocket and Polaroid Zip
The printer is smaller than the Instax, about the size of a single deck of cards. I love the convenience of the sticker paper. Not having to worry about packing extra washi tape or needing glue makes it so easy to use and apply to my travel journal. I also like that the film comes in packs of 50 and doesn't use a ton of excess packaging as the Instax refills have. This is because of the Zink Paper. When the Zink paper heats up, it activates the color deposits in the paper, which results in the print.
Cons of the HP Sprocket and Polaroid Zip
The print quality is pretty terrible. Colors are either muddy or washed out, it tends to have an "orange" tinge to it, but not in a cute "Instagram filter" kind of way, but in a strange Oompa Loompa kind of way. Since it uses heat to develop the print, that means the printer can overheat, which slows down the printing process even more. I tried to print one photo from my Polaroid Zip printer, and it took 55 seconds to print.
---
While the idea of the sticker pictures from HP and Polaroid makes sense on the road, the print quality was just poor for me to overlook. That makes the Fuji Instax Printer the winner. Sure, I need to carry extra adhesive and or tape or stickers. But I was going to carry those on my travels anyhow. I'm already using them to decorate the pages in my Wanderlust Passport. The photos look fantastic, and the film is easy to get… it really is a no brainer for me.
Do you use a portable printer? Does this article help you with your next journaling adventure? Drop a comment and let me know your thoughts!
I've also posted a video on my Youtube channel and my IGTV where you can watch my review of these printers.
---
Note that these are affiliate links. But that just means if you decide to grab one of these items from me, you help support me and my business!
HP Sprocket Portable Printer
Polaroid Zip Portable Printer
---
---
---
Don't miss a future blog post and sign up for my newsletter.
---
---
Hugs and High Fives!