Unique Ways to Use a Journal- Featuring Jettartz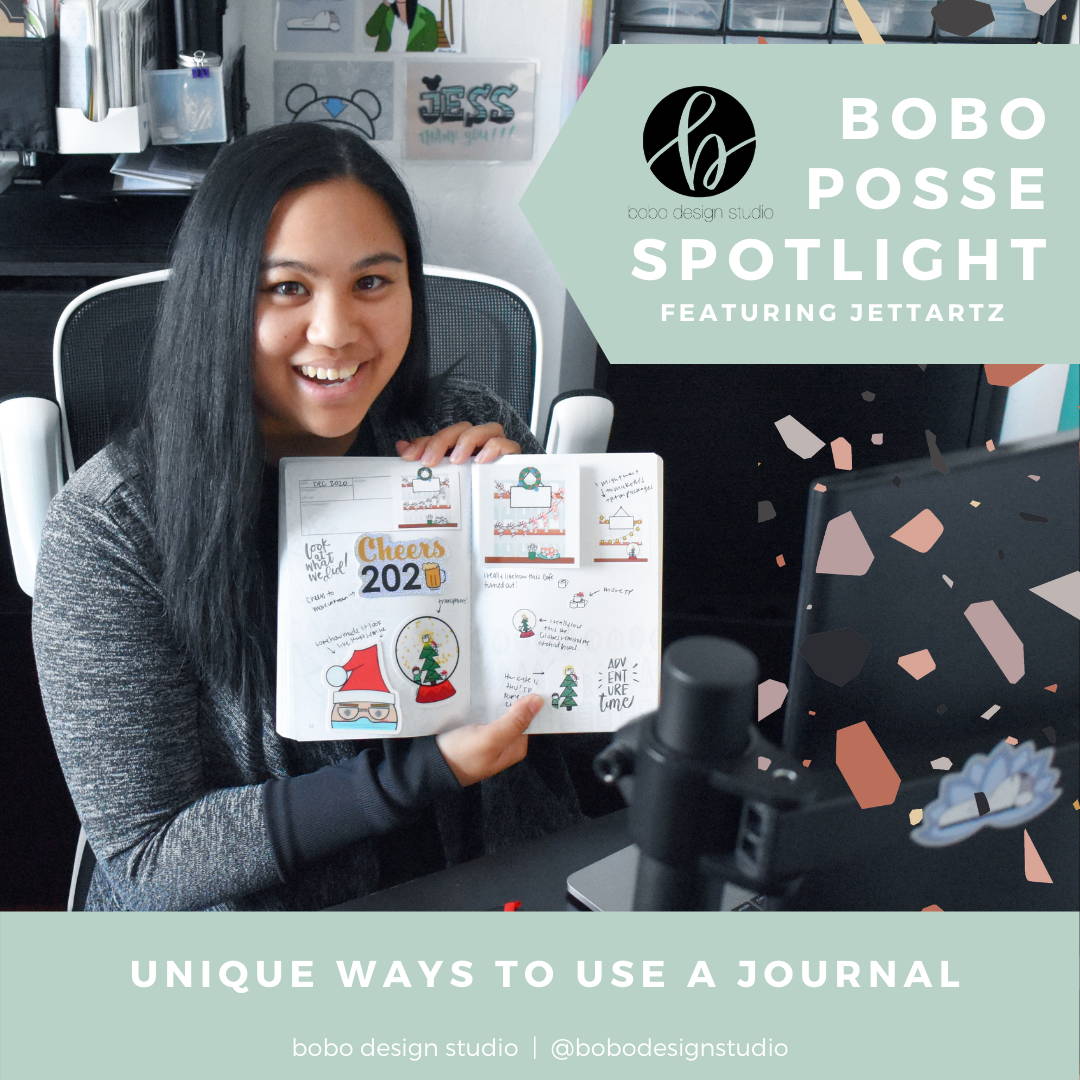 ---
Unique Uses for the Wanderlust Passport Travel Journal
The Wanderlust Passport is a travel journal designed for documenting travel and new experiences. At least, that is what I designed it for. However the creativity of my customers knows no bounds. In my
last bobo Posse Spotlight, I featured Kristen Catalanotto
and her unique use for the
Wanderlust Passport
. Today, I'm thrilled to feature one of my most loyal #boboposse members and showcasing her unique way that she uses her Wanderlust Passport to document her creative journey- Jessica of
@jettartz.
I first met Jessica at holiday show I was vending at called San Jose Made Holiday Emporium. It's one of my biggest holiday shows to close the year out. This event is in my hometown, and it's a chance to get to meet all my long-time customers in person as well as meet and make new ones. Thousands of people pour in and out and it can be so overwhelming, but in a good way! Considering the volume of people, it can be hard to remember everyone who comes to my booth, but Jessica really stood out. She shared her story with me, gave me some stickers she had created, and well, we've been in touch ever since! She's not only a hardcore #boboposse member, she's also part of the founding team of brand ambassadors that I've lovingly dubbed my "bobo Brand 'Bassadors!"
Jessica is also a budding creative entrepreneur creating wonderful stickers, stationery, and ephemera for the planner community. She has so many great items in her shop including planner sticker sheets, vinyl stickers, and assorted planner related stationery. You can find her shop here:
https://www.etsy.com/shop/JettArtz
Using a Journal to Document Your Progress
When I created the Wanderlust Passport, I envisioned it to be used to document travel and new experiences. Seeing how people interpret the use of the passport to fit their needs is something that will always blow me away and inspire me. Jessica found a way to use the Wanderlust Passport to track her design and business growth. As someone who is growing her own business, I understand how much of a struggle the day to day can feel like. When you are in the thick of things, suffering from creative blocks, seeing others in the space appear to excel ahead of you... it can feel really discouraging. One of the best was to remind yourself of how far you have come, and to celebrate those wins is to document them and keep a list of the progress. Jess has found the perfect way to do that!
"My wanderlust passport journey began when I met Angie at the SJmade event in 2019. I had bought the passport to document the places that I had visited. In the process of me visiting places, I had rediscovered my passion for drawing and doodling. I had begun planning and setting goals for myself and realized that I could combine planning and stickers. On March 19, 2020, I took out the Wanderlust Passport and started documenting all the stickers that I have made. I wanted a special place for me to document my growth and remind myself why I started my business." - Jessica
Jessica, I love your unique use for the Wanderlust Passport and I can't wait to watch you business continue to grow!
---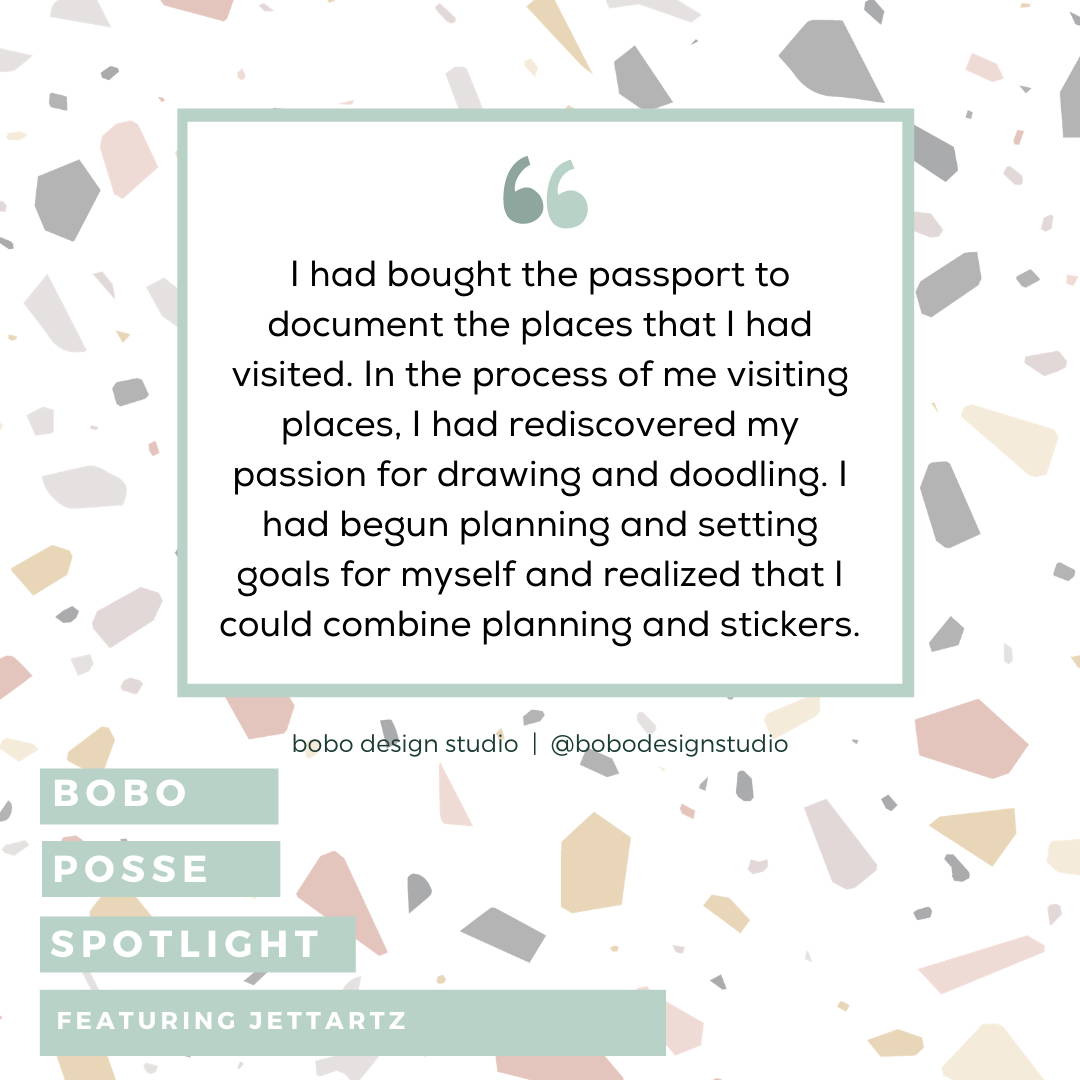 Now, let's take a moment to get to know her a little better in our rapid-fire Q&A!
Name and Location:Jessica, California 
Instagram: @jettartz
If you could pack you bags and go ANYWHERE tonight, where are you going and why? I
It is a question that is hard to answer because there are so many possibilities, but if I could go anywhere it would have to be Hawaii. I have created great friendships within the sticker community who reside in Hawaii. I would like to personally visit them and see the amazing local shops that they recommended to me. Plus, it has been a destination that I still have to visit, and would like to make it count. 
Of all the places you have visited, which place was the most magical?
It would have to be Seattle because it reminded me of San Francisco. I love all the different food this city has to offer. Every time I visited the Pike Place market I always found new places to experience and explore. It is also a destination that has one of the best clam chowders. When I went to visit a local dog park, it was nice to see how friendly the people and animals were, plus it was a relaxing moment to enjoy the peaceful surroundings. 
If you could be any animal in the world, what would it be and why?
I would love to be a Panda because of the amount of bamboo plants that are in my house. Pandas love to climb and I haven't prioritized hiking, but I love getting to the top and seeing where I've come. Documenting these moments can be shared with others or kept for yourself as a reminder to stay motivated. 
What do you want to be when you "grow up"?
Growing up, I wanted to become a teacher and help other children who were struggling to feel confident in their growth. I went to school for a long time to become a preschool teacher, I love working with young children to support them in their social and emotional development. 
You come on stage to a roaring crowd- what song is playing upon your grand entrance?
I do not think that I have one song that would be playing upon my grand entrance. The amount of options would make it impossible for me to narrow it to that ONE song.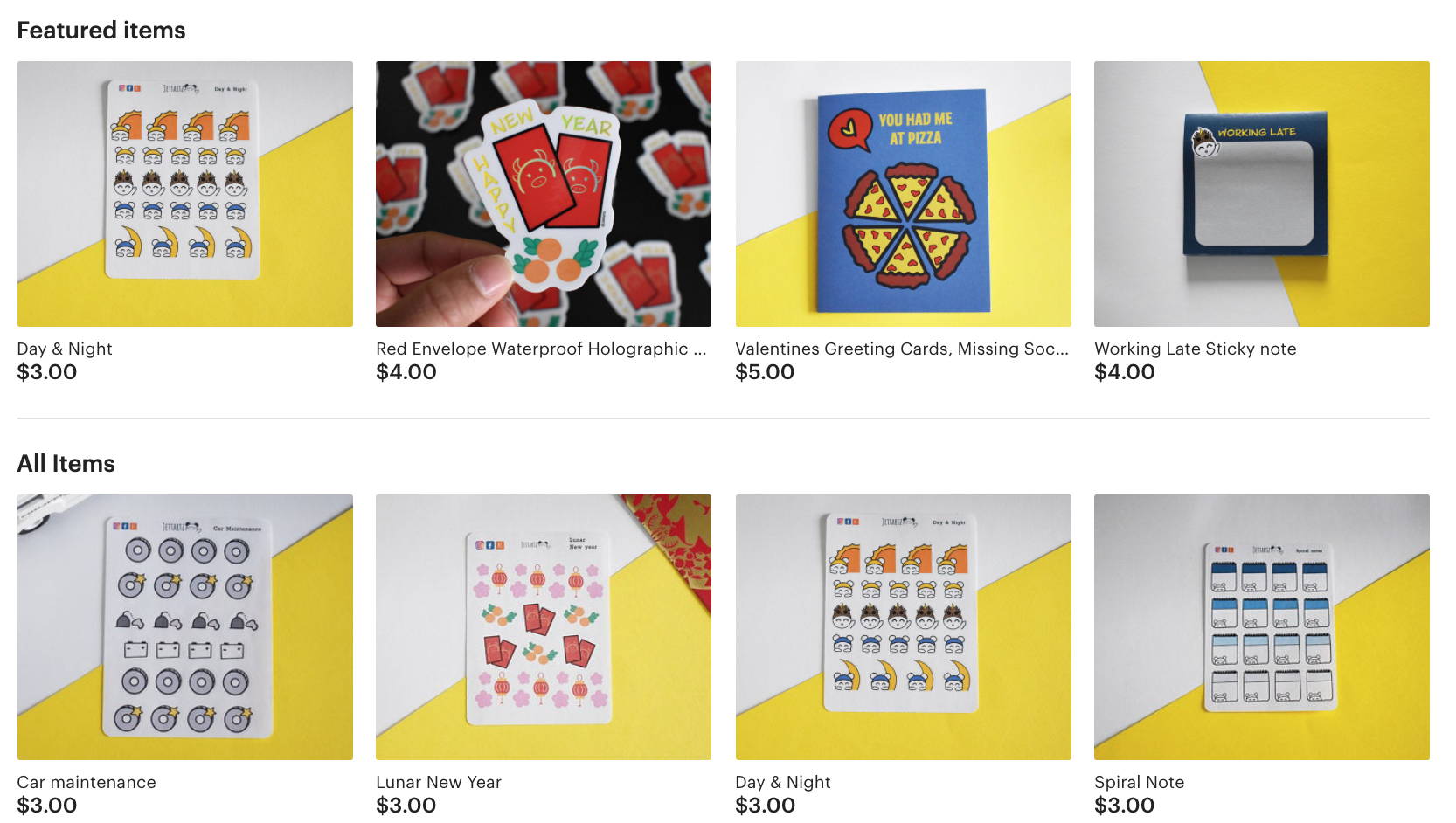 Thank you, Kristen for sharing your story and for letting me play a part in your entrepreneurial journey!
To follow along and learn more about Jessica, you can find her at the following places on the interwebs:
WANT TO MAKE YOUR OWN MEMORIES?
Grab a Wanderlust Passport and start making and documenting lasting memories. Got a unique use for your passport? Send us an email info@bobodesignstudio.com
---
Hugs and High Fives!